Highlights:
84% of Brits would choose to drive their own cars home after work compared to less than 1% who would choose to take the tube.
Almost one-third (32%) of motorists feel relaxed behind the wheel, another quarter (25%) feel free and 22% feel happy.
Across the country– Just under half (48%) of Londoners choose to drive on motorways because they are safer compared to 43% of Scots who prefer them because they are faster. Whilst 54% of Welsh drivers just want to drive on those scenic country routes.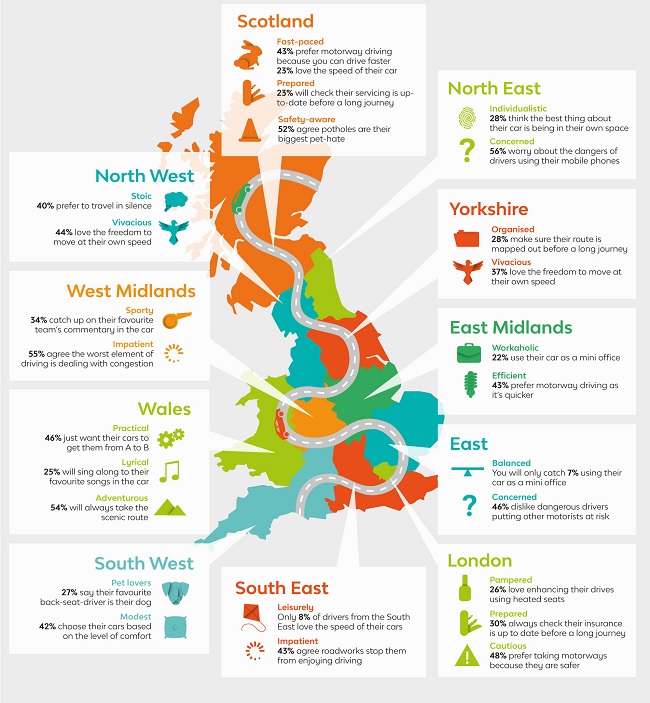 Love of driving
So what is it about driving and cars Brits love so much? For some it's comfort (39%) while others love how their car looks. Millennials (18-25 year olds), defined by their 21st century choosiness, are most concerned about the look of their car (20%) compared to just 6% of those over 55.
Although looking good and comfort are at the top of the list for most motorists, just under half (45%) admitted having their own space makes them feel the best and a further 38% of respondents, the ability to go wherever they please, whenever they like, represents their biggest love for the road.
Open road
The LeasePlan survey data, gathered from 1,000 respondents across the UK, also revealed the nation is divided on the types of road they prefer; 35% of drivers like putting their foot down on motorways, while 29% of drivers still prefer taking the more scenic, country routes.
Car karaoke
The survey also revealed how Britons prefer to spend precious time in their vehicles. Most (66%) choose to enhance their daily drives by listening to music; rock, pop or classical – music is the driving beat of motorists today, while for 32% of motorists silence is indeed golden.
Allowing some insight into how car relationship dynamics play out, this might be a clue to those men (33%) who listen to the sports commentary and their female partners (33%) who have admitted they'd prefer to drive in silence.
Annoyances
And passion goes both ways, the survey also revealed the irritations stopping drivers from enjoying their daily drives, 42% of drivers claim congestion is their top reason, over a third (37%) say it's down to the number of potholes and a further 37% admit that roadworks are a constant nuisance.
LeasePlan has been working with fleets since 2013 to combine data captured by in-vehicle technology with fleet management expertise – to give organisations a comprehensive overview of their fleet performance. To find out more speak to your LeasePlan Account Manager – alternatively you can watch our video here.